No results were found for the filter!
Sustainable natural ribbons and cords from HALBACH
The natural look is in vogue! HALBACH has a lot of natural products in its portfolio and produces natural ribbons in linen, cotton, paper, jute and many other natural materials. But the current trend has an additional dimension: the issue of sustainability. With our natural ribbons and environmentally friendly packaging, we give our customers the possibility to participate in this major trend. Discover next season's natural ribbons and cords for wholesalers!
Full colour range with natural ribbons? Yes, it's possible!
If you love colours as much as the natural look, you can have both: thanks to the large selection of colours the HALBACH online shop leaves no wishes unfulfilled for natural ribbons and cords. The colours range from soft pastels to deep tones. The colours are individually determined for every product – always according to respective custom! Those who prefer fully natural will also find what they need: The natural ribbons and cords for wholesalers are of course also available in the typical earthen colours.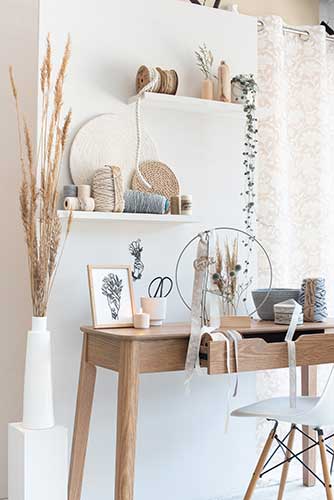 Linen– the beloved natural ribbon for wholesalers
Sustainable, environmentally friendly, and naturally beautiful – those are the hallmarks of our fine linen ribbons and cords The noble, matte appearance with its slight shimmer is the ideal basis for high-quality motif prints in gold or silver. Coloured prints in white, red or green also look good on the naturally grey material. The HALBACH shop has natural linen ribbons in various colours – from yellow to pink and dark green.
Depending on how they are processed, our linen ribbons range from a soft to a firm texture, but are always loose. Whether you prefer a fine texture or rougher decorative ribbons for a more rustic look, we have the right, environmentally friendly product for you. The flax fibres are usually grown without the addition of artificial fertiliser, and the natural dew retting separates them from the plant without the use of chemical additives. Further benefits of linen: The raw material is grown in Europe – this means shorter transport routes and a small carbon footprint.
The all-rounders: cotton ribbons and cords by HALBACH
Looking for a suitable material for trendy macramé handicraft? Our recycled cotton cords and yarns in soft nature tones are just the right thing. If you need elegant cords for a festive occasion or as a special finish for a gift wrapping, use the knitted cotton cords with shining Lurex – manufactured at our plant in Remscheid.
Another feature of our cotton ribbons and cords: they are biodegradable and durable. They also have a high resistance to heat, are robust and very colourfast. The matte appearance and the good dyeing properties are further benefits of our natural ribbons and cords made of cotton.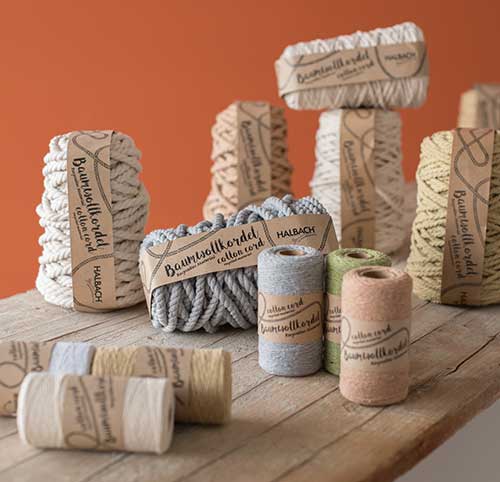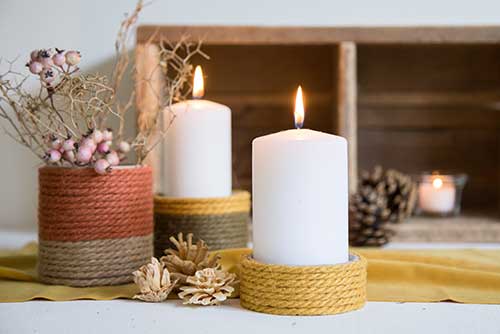 Robust and elegant? Jute cords and natural ribbons for wholesalers
Wild print ribbons with zebra and leopard prints, filigree heddles in macramé appearance made in Germany, or classical natural cords for wholesalers – the jute ribbons and cords in the HALBACH product range are wonderfully versatile. This category also includes very colourful products: sunny yellow, strong pink or dark blue. Earthen tones like orange, beige and ochre are also in our colour palette. For the Christmas period, jute ribbons with printed stars and pine trees are the go-to choice.
The fibrous jute has a typically rough touch, which is completed by a surprising golden, silky sheen – the material combines robustness and elegance. The natural ribbons and cords made from the fibres of the Corchorus plant are tear-resistant, durable and completely biodegradable. This fits into the current trend for sustainability that is increasingly important for wholesalers and their customers.
Special natural cords and ribbons made from paper
Paper table cloths are the decorative highlight of every festive occasion. The woven sheets in the HALBACH product range are water-resistant and wipeable – ideal for multiple uses. Whether in classical red for the Christmas period, in pastel berry tones for a boho wedding or in a fresh green as a party decoration, our paper ribbons and cords let your customers design their own decorative ideas.
The features of this material: from matte paper knitted tubes to woven ribbons of paper yarn, our products are astonishingly silky. They are based on craft papers from Germany that are very easy to dye and to work into unique products. Discover the fitting natural ribbon and the ideal natural cord for wholesalers: Variants with a wire core are particularly stable while remaining flexible, while mixed material cords combine the best properties of paper and other ribbons – produced on special machines in our textile plant in Remscheid.
Decorating with wood – order wood veneer cloth and cork ribbons online
Lovers of the natural wood look will adore the HALBACH products in wood veneer cloth and cork ribbons. The latter especially stands out for its silky feel and unique look. The light and elastic material is not just robust but also fire- and dust-resistant. It is sourced from the cork oak and is harvested by hand. Our natural cork ribbons are 100% natural and reusable – a win for sustainability.
Discover refined cork decorative ribbons with gold print, playful variations with embossed flowers or embroidered fringes and self-adhesive cork ribbons in individual sizes in our online shop. We also offer light and dark wood veneer cloth for sewing or gluing. Even extraordinary decoration ideas can thus become reality.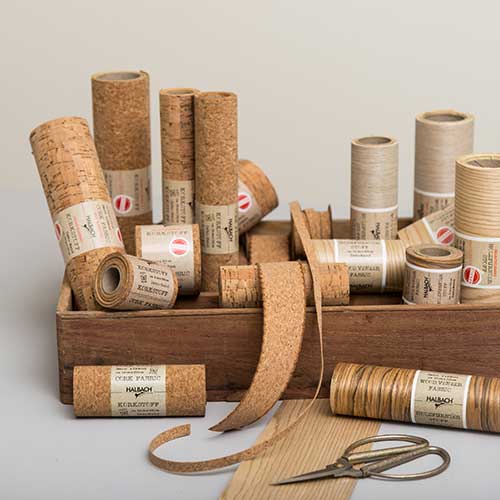 HALBACH Seidenbänder – exclusive collections twice a year
Are you looking for a special natural ribbon or a specific natural cord to offer your customers in the upcoming season? Then register in our online shop – exclusively for B2B customers. After registration you will have access to all the products and prices in our range and can directly pre-order your selection of natural ribbons and cords. Twice a year, we put out new collections that include paper products and other decorative items like table ornaments besides cords, ribbons and fabrics.
Do you have any questions about our offering? The HALBACH team is happy to answer your e-mail or phone inquiries!