No results were found for the filter!
Cords, decorative textiles and decorative ribbons for wholesalers
Quality materials, worked into cords and ribbons in exclusive designs – typical HALBACH. Our range covers a wide selection of decorative textiles that are suitable for table decoration and flower arrangements, but also for knitting projects and gift wrapping. Order decorative textiles, ribbons and cords in various widths, colours and materials, to satisfy the needs of every occasion – birthdays, anniversaries, company celebrations or seasonal occasions. HALBACH is your partner for wholesale decoration!
What makes HALBACH decorative ribbons for wholesalers so special?
Professional technology, years of manufacturing experience, extensive market research and quality yarns are the foundation of HALBACH decorative textiles. Many of our products are made in Germany – in our own textile plant in Remscheid. We manufacture textiles, cords and decorative ribbons for wholesalers on our state-of-the-art textile machines and special ribbon weaving machines. Our favourite materials include:
OEKO-TEX®-certified acetate
cotton
linen
jute
Effect yarns: Polyester, monofil, Lurex yarns
Unlike manufacturers in the Far East, we only use plastic rolls for our own ribbons and cords. These are manufactured in Germany, reusable and 100% recyclable. The excellent solidity and haptics of the plastic are important features, especially for rolled goods of 25 or 50 metres. With HALBACH, choose sustainability.
Sustainable ribbons, cords and textiles for decorative wholesale – by HALBACH
The topic of sustainability is very important to us. That is why we mainly use yarns that are biodegradable and as environmentally friendly as possible in the production of our cords and decorative ribbons for wholesalers. Below we present some of our most important raw materials.
OEKO-TEX®-certified acetate
Our acetate ribbons may be chemical fibres, but they are based on a natural raw material: cellulose. The biodegradable material is completely free of microplastic and is OEKO-TEX®-certified – a win for the environment. Acetate is also easy to dye, so yarns can be manufactured in any imaginable colour. At our textile plant in Remscheid, we breathe life into the acetate yarn that we import from Spain, processing it into non-fading, colourfast decorative ribbons that can also be used outdoors. A satin sheen and a fine texture are typical of the acetate ribbons by HALBACH. Our product range includes plain products as well as printed variants – all of them washable at 30 °C.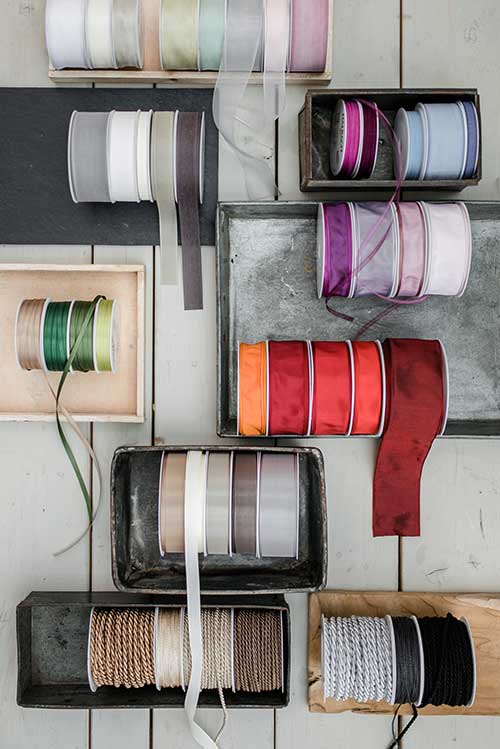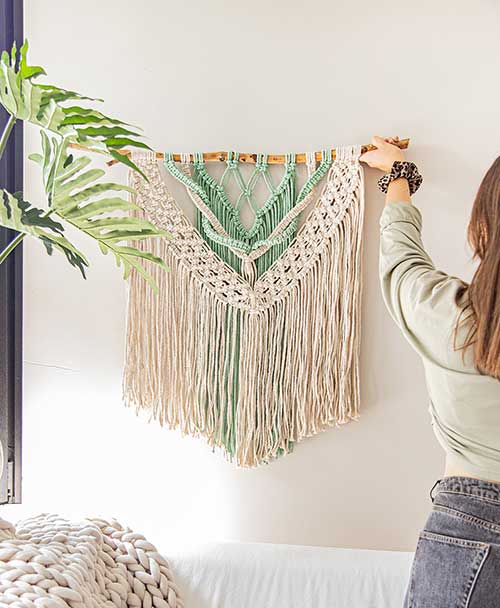 Classical cotton
A biodegradable material, cotton is a very sustainable product. The resistant, durable fibres give our cotton ribbons and cords excellent robustness. The raw material is also very resistant to heat. With its matte appearance and good colour properties, cotton yarn is the ideal basis for quality cords, ribbons and decorative textiles in a wide range of colours and designs. We have decorative items for wholesalers such as cotton lace and ribbons as well as cotton cords suitable for macramé – some of them refined with Lurex in order to combine the matte appearance with a special sheen.
Natural linen
Linen is another sustainable fibre, whose advantages already appear in production: the plants hardly ever require artificial fertiliser, and the natural dew retting of the flax fibres is an environmentally friendly retting method. In addition, flax is grown in the EU, removing the need for long transport routes, thus reducing the carbonfootprint. Linen has a naturally matte appearance, coupled with a light shimmer. Depending on whether it is worked into cords, ribbons or textiles, the material can have a soft or dense texture. Soft lacework and printed ribbons benefit from the fine texture, while mesh ribbons and linen filé yarns are usually clearly textured. All linen ribbons have a loose shape.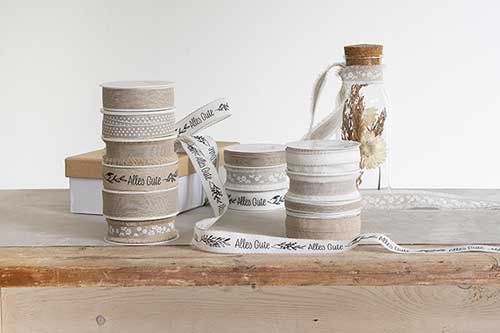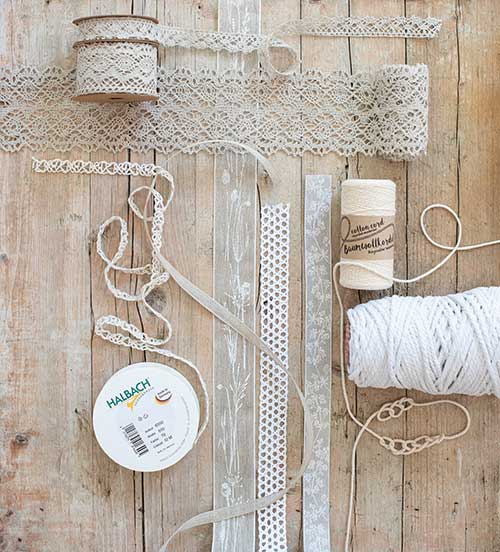 Robust jute
Tear-resistant and robust – these properties are the hallmark of decorative articles made in jute. The grainy touch and the unmistakable appearance are also guarantors of success for these products. Decoration wholesalers and their customers value jute because of its golden, silky sheen and the simple dyeing options. Colourful or printed ribbon designs can be easily executed. The material is also easy to work for gift wrappings, decorations and floristry. The natural fibres are also environmentally friendly, as they are completely biodegradable. In the HALBACH online shop you can find jute ribbons, cords and heddles in many colours and designs.
The HALBACH range for decoration wholesalers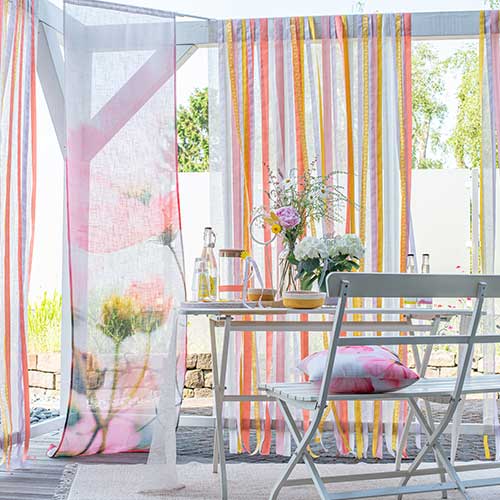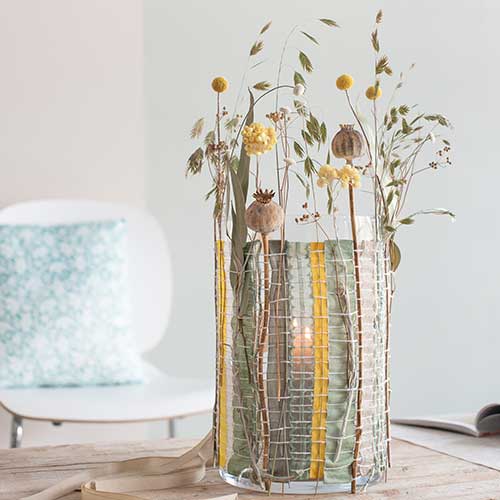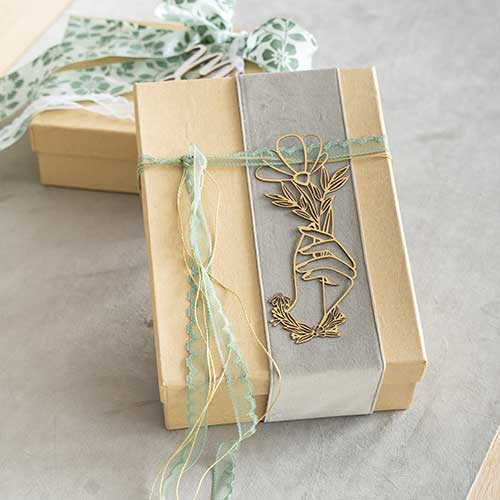 Decorative ribbons for wholesalers
From soft velvet and fluffy synthetic fur ribbons to filigree lace ribbons, our range covers decorative ribbons for every occasion. For special occasions, we have a selection of gold and silver ribbons that can be individualised with text or motif ribbons for different seasons. If you want decorative ribbons with a rustic touch, diamond and mesh ribbons in red, green and brown colours are available.
Sustainable natural ribbons and cords
Linen, cotton, jute, paper and cork are our top materials for natural cords and decorative ribbons for wholesalers. Simple, plain variants, with reinforced loop edges or excellently printed – the natural ribbons and cords by HALBACH are very versatile decoration and project accessories.
Decorative cords and strings for floristry and DIY projects
Filés with a pliable wire core as well as pearl, linen and cotton filés are must-haves in floristry and creative design. The HALBACH range has a variety of decorative cords and strings made from natural or near-natural materials. This includes classical knitted tubes as well as trendy products for macramé work.
RETAIL COLLECTION – from decoration wholesaler to final customer
We offer a fine selection of colour-harmonised decorative ribbons and cords on retail rolls – from 4 to 12 metres. We manufacture or process these products at our textile plant in Remscheid. This ensures that you get high-quality cords and ribbons made in Germany at a good price-quality ratio. Your benefits: You can reorder all products in the RETAIL COLLECTION even during the running season.
Standard DAILY – made in Germany
The products in our Standard DAILY collection.are also made in Germany. The exclusive cords and decorative ribbons for wholesale are available at HALBACH in different widths, colours and variants. Short transport routes, immediate availability and timeless designs are the hallmarks of the DAILY collection.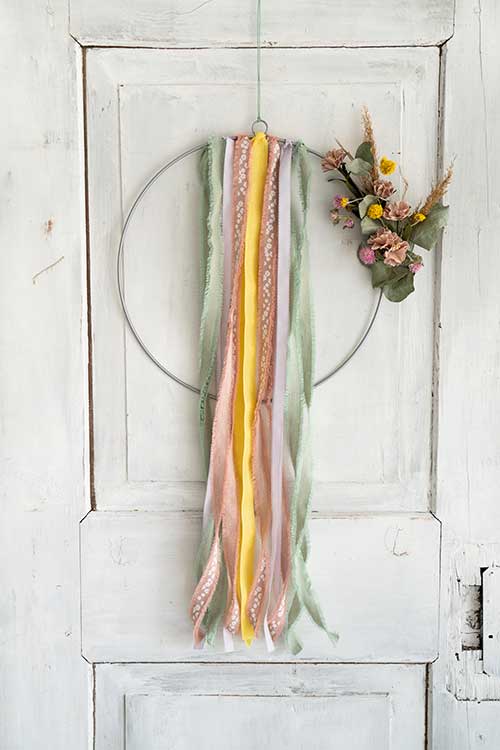 Table ribbons and decorative ribbons
Tulle and paillettes for celebrations, synthetic fur for extraordinary creations or seasonal motifs for Easter and Christmas – in the HALBACH online shop, you will always find new, appealing decorative ribbons and table ribbons for wholesalers. Be inspired and order the fitting ribbons, cords and decorative textiles for the coming season now!